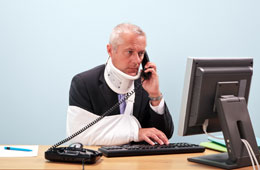 Commercial Best
Insurance Services Inc.
2703 W. Burbank Blvd.
Burbank, CA 91505
Tel: (818) 841-4111
Fax: (818) 841-5958
info@commercialbest.com
License #0C46074
Workers Compensation
Protect one of your business' valuable assets by securing Workers Compensation insurance. With this insurance, your people are protected financially in the event of illnesses, diseases, injuries and disability incurred while at the workplace.
It pays for hospitalization bills, medical treatment and rehabilitation costs, lost wages, legal costs and possible legal claims arising from accidents.
Featured Insurance Coverages